Unique Spotlight – The Hamburger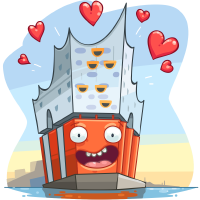 Hamburg as the second largest city in Germany has more to offer than the Reeperbahn. Maybe. Who knows 😉
Owner: winkide

How To Get: Trade for missing Uniques and other improvements. Let's talk!
Meaning: My 4th German City Unique is a tribute to the new Hamburg, which has developed in recent years. More bridges than Venice, more culture than Milano and more girls than Rome & Naples, Hamburg is more Italian than Italy. I worked there for a few month and I love to look back to this time.
Which number Unique is this for you? This is my 4th Unique and there are plans to get some more.
Closing Thoughts: Thanks to WB and all players for this great community and the chances to interact. You are great!