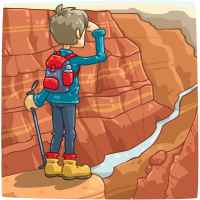 Our time here is brief, let's go see what we can find!
Owner: Cali49

How To Get: Cali49 is out hiking. If you find him, he'll gift you this Unique.
Meaning: I love hiking, camping, exploring the wild places, taking road trips and getting lost while doing so. Cali49 was created to share those feelings with other players, the joy of discovering something new, the sense of wonder out there in the wilderness, the melancholy feel of an abandoned town. Just a little glimpse at what makes me happy.
Which number Unique is this for you? This is my fourteenth Unique.
Closing Thoughts: My thanks to Andy Cameron for creating this amazing Unique, from a vague idea of mine, into one of my favorite cards in the game!