Weekly Buzz – 05/25/18
Hello Collectors,
Happy Towel Day! Have you seen QueenofDNile's new Player Unique? If not, you should check it out. You'll never know when you may need it.
Behind the Curtain
Do you hear Yanny? Laurel? Either way, you're sure to love a new WallaBee Unique that was released this week. This should end the debate for good.
Last week, we asked for name suggestions for the new Gardening set. The votes and in and the set is live. Thanks to everyone who contributed such great names. We loved many of them, but can only have one winner. Congratulations Cali49 on coming up with the winning title: Weed 'Em And Reap! You will be receiving 5 shiny Mystery Boxes for your efforts.
Information about the Wishing Well was released this week to some much needed positive feedback. We believe this will be a great opportunity for the game to progress forward and look forward to releasing this new feature for everyone to enjoy. The Wishing Well will be found in Weed 'Em And Reap as a normal item. If you have questions about the Wishing Well, you can read more here.
Benson is on the move again this weekend! Check Benson #181 and higher to see where he is! Follow this link and hit 'next' to find out quickly!
The social competition on our Facebook page ended this week! We'd like to share another congratulations with Verit4s for his suggestion of Mixerpool Maintenance Crew. The team cannot wait to get started on this set. We'll be sure to post updates as we document the process of the Mixerpool and those who work diligently to keep it running.
Oh yeah… we forgot to highlight some artwork from Andy. He says 'hi,' by the way.
---
Recent Item Highlights

---
Player Unique Spotlight
With more and more Player Uniques coming out, we want to spend a respectable amount of time learning more about them. Our Player Unique Spotlight this week highlighted Guardian Angel. You can read more about this unique here.
Guardian Angel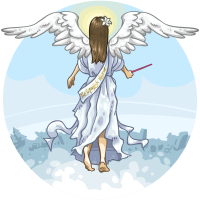 ---
This Week In WallaBee History | May 21st – May 27th
May 24th, 2012: Life's a Beach ended with the Seaside Hotel. Who could go for a stay in that hotel? I know I sure could…
May 22nd, 2013: A Whole New World was found, closing the chapter on Arabian Nights. What? No… we don't see the resemblance at all, sorry.
May 24th, 2013: Pok… Pouch Creatures were released into WallaBee through a very interesting manner… Dr Miu Chudoku gifted users their first Pouch Creature. The next day, the Gems were found, allowing players to evolve the PC they were gifted the previous day. However, players could only forage Gems of opposite typing from the PC they received. For example, if you received Muru (Earth), you would only find Fire and Water Gems. Trading with other players was crucial if you wanted to evolve your creature. Although a clever mechanic, it lead to much frustration for those involved.
May 22nd, 2014: Recluse was released, kicking off the first comic set: Introducing… The Forager. Little did this recluse know that he would be getting kicked in a future item. Get it? Ah.. The next day, the first item in Tiki Tourist was released. Two sets in two days. Crazy.
May 26th, 2015: Ice Scream released its first item. What ever happened to that Chocolate Ice Cream we were promised?
---
Room For Growth
We have compiled a list of issues that we are currently working on. If you find something that doesn't fit into this list, please reach out to us and let us know.
Battery drains like crazy
Forum Notifications/Count are missing

Coming in a future update.

General slowness

Under investigation. Ram Issue.

Layout Issue (Android Specific) – Entering the app through a push notification, from a landscape-based app, makes the layout freakout.
Random Crashes (especially on older devices)

We have discovered that the ram needed for the app fluctuates way more than it should, sometimes peaking over 1gb, which can cause older devices to crash. We are investigating what is causing this, so that we can enhance app performance.

Store purchases hang up for a long time

We're currently working on this. Should be mostly resolved with our continuing changes.

Store shows new item, but gives something else

Under investigation. Usually happens when the app hasn't been closed.

Unresponsive Buttons – Performing certain navigation changes can cause various pages to become unresponsive. Closing the app resolves the issue.
Any additional questions, comments, concerns? Email: support@wallabeegame.com