Unique Spotlight – What Was I Thinking?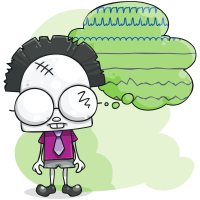 As Matt looked at his brain waves, thoughts started to form.
His mind followed the spikes of each seizure storm.
Like caught in quicksand, his mind started sinking.
He stared straight ahead and thought, "What was I thinking?"

Owner: Potaytoes
How To Get: What Was I Thinking is available in the Uncanny Uniques store.
Meaning: I've suffered from Epilepsy for a great deal of my life and wanted to use my personal experiences to bring some awareness to epilepsy and the people who suffer from it.
Which number unique is this for you? This is my first of hopefully many.
Closing Thoughts: Since the unique was released back in June I've had another surgery to remove another small piece of hippocampus. My seizures have greatly reduced from 3-4 a day to 1-2 a week so we are moving in the right direction.