Unique Spotlight – The Kiwi Chocolate Fish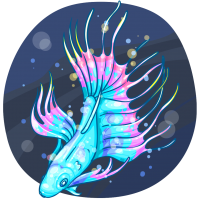 We make a living by what we get We make a life by what we give — WC —

Owner: greyhoundjane
How To Get: The fish is now available to any new members to the Kiva Team who make a cash loan, or I am happy to trade him for a personal Unique I am missing. I will also consider trading for a DD of a saved set item I am missing.
Meaning: In New Zealand we have type of lolly/ sweet/candy, called a chocolate fish. It's basically a fish shaped marshmallow, covered in chocolate. This treat is often given to kids as a reward for doing something well (give that kid a fish for a job well done). A chocolate fish isn't the prettiest thing, so I decided pick my favourite fish a Betta for the image. I initially created this item to give to active members of the WallaBee " Kiva "team. Kiva is a micro loan charity, which provides small loans to people. You can read more about Kiva on their website. Each team member got one as a "job well done" for supporting such a great cause. The quote on my Unique also reflects this… We make a living by what we get, we make a life by what we give. – Sir Winston Churchill
Which number unique is this for you? This is my 3rd Unique. 1st was The 40mph Couch Potato and the 2nd was The Traveller.