Unique Friday 06-03
Happy Friday, y'all!
Unique Friday #9 is here! Please help me welcome this new addition to our game. It's only one, but it's strong!
Bayon Temple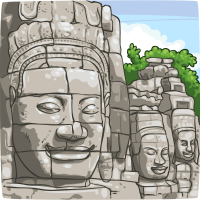 Description: Located at Angkor in Cambodia the Bayon is a Khmer temple which was built in late 12th or early 13th Century.
Owner: Purple-Star
How To Get: Please contact purple-star regarding this unique.