Unique Spotlight – Sindy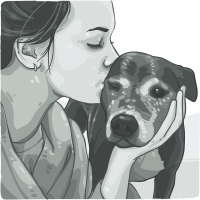 Here is the black and white pic of "Sindy" our old faithful staffy – it's her goodbye kiss as she's waiting across the rainbow bridge for us now.
Owner: Cosmicmum

How To Get: I trade for Uniques I don't have.
Meaning: Sindy was our gentle pack leader and we had to say goodbye.
Which number Unique is this for you? She's my second Unique.
Closing Thoughts: GOOD GIRL!!!