Unique Spotlight – Dalí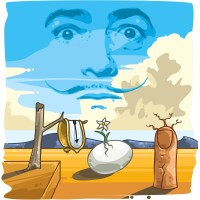 Have no fear of perfection – you'll never reach it.
Owner: Wyando

How To Get: As I have different goals for each set, I am sure we'll find something. Just ask.
Meaning: This Unique is a homage to my favourite artist. Part based on "The persistence of Memory." "The egg" is a Dalinian image that symbolizes hope and love. Part of the Sculpture "Finger of God"
Which number Unique is this for you? This is my second Unique.
Closing Thoughts: I discovered Dalí when I was a teenager (School trip to the Museum Ludwig). And it is one of the few memories that lasts: I was standing in front of a canvas (way too near), and looking all over it (it's 295m x 406m!) seeing those different parts. Still I wondered about a red "bloody wound" in the middle, which made no sense at all. And while the class was already going to the next room, I just couldn't leave, instead I was going steps back, until I got that painting in its whole view – with the effect of seeing why that "bloody wound" was there. And I was stunned about the effect of this painting, which is until today my favourite painting of all: La Gare de Perpignan (Perpignan Train Station).