Unique Spotlight – Wallatat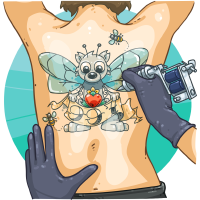 Word on the street is that you have to get a real WallaBee Tattoo if you want to earn this Unique. Don't worry… it'll only sting a bit!
Owner: JenBee997

How To Get: Wallatats are free for all! Just send JenBee997 an in-game message to request one! Despite the item description I promise it will be pain-free!
Meaning: Tattoos have continually been a big part of my life and my family's life over the years. I've always been fascinated by the striking beauty of body art. So naturally I knew I wanted to create a tattoo Unique, although I wasn't quite sure what kind of tattoo I wanted. But then Andrew Cameron came to the rescue! When I first saw this beautiful tattoo artwork he had created I was over the moon! What an amazing way to honor my two favorite things: WallaBee & Tats!
Which number Unique is this for you? This was my very first Unique and is so special to me. I have been an avid WallaBee player since 2015 and was super excited when Unique commissions were re-opened in 2016 which lead to the creation of the Wallatat. I have special plans for another Unique in 2018 so keep your eyes peeled!
Closing Thoughts: Players often ask me if I have a real WallaBee tattoo. I've gotten about 20 tattoos during my life so far and I love every single one of them! But my favorite is my foraging bee tattoo! Unfortunately when you tap it no honeycombs come out!