Weekly Buzz – 07/06/18
Hello Collectors,
Today marks another week done in the world of WallaBee. Are you having fun taking advantage of the Patriotic Mystery Boxes? We sure hope so! They'll remain mixable through the 8th!
Behind the Curtain
50 more Bensons have hit the road this week, traveling to verified monument/sculptures around the globe. Is one near you? Chart them out between # 251 and #300.
How does your garden grow? Hopefully lively! Make sure you're well supplied for your plants to keep growing. They need hydration!
Summer is heating up! It's time to grab your buckets and spades and meet us out at the beach! There's an exciting sand castle competition starting soon that you won't want to miss!
Mixerpool refills? Always fun! There's another BIG one coming soon. Keep your eyes peeled for some very low RareBees hitting the pool for some summer fun!
---
Recent Item Highlights
---
Player Unique Spotlight
With more and more Player Uniques coming out, we want to spend a respectable amount of time learning more about them. Our Player Unique Spotlight this week highlighted HooBoo. You can read more about this unique here.
HooBoo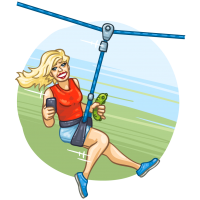 ---
This Week In WallaBee History | July 2nd – 8th
July 4th, 2013: Grand Entrance allowed everyone to enter WallaBee World for the first time!
July 4th, 2014: The first Patriotic Mystery Box was released.
July 8th, 2017: July's Video Games Day released, highlighting some of your favorite WallaBee characters as 8-bit art. A website easter egg also accompanied this item: RetroBee!
---
Room For Growth
We have compiled a list of issues that we are currently working on. If you find something that doesn't fit into this list, please reach out to us and let us know.
Battery drains like crazy
Forum Notifications/Count are missing

Coming in a future update.

General slowness

Under investigation. Ram Issue.

Layout Issue (Android Specific) – Entering the app through a push notification, from a landscape-based app, makes the layout freakout.
Mix Button Turns Off When Exiting App

Fixed with next version. Can be worked around now by pulling-to-refresh on the Pouch screen.

Profile Bio Doesn't Save

We have received reports that the bio doesn't always save or randomly disappears. This is under investigation.

Random Crashes (especially on older devices)

We have discovered that the ram needed for the app fluctuates way more than it should, sometimes peaking over 1gb, which can cause older devices to crash. We are investigating what is causing this, so that we can enhance app performance.

Store purchases hang up for a long time

We're currently working on this. Should be mostly resolved with our continuing changes.

Store shows new item, but gives something else

Under investigation. Usually happens when the app hasn't been closed.

Unresponsive Buttons – Performing certain navigation changes can cause various pages to become unresponsive. Closing the app resolves the issue.
Any additional questions, comments, concerns? Email: support@wallabeegame.com