Hello Collectors,
Cake or pie? Why not a piecaken? Mmmm… Sounds like we have a tasty new Unique to design.
Behind the Curtain
How was your weekend? Did you make lots of wishes to receive Patriotic Mystery Boxes? Regardless of how much you participated, we hope you enjoyed the festivities. A small shoutout to Rupal, who made 91 Patriotic Mystery Boxes with their Hope #639. Very impressive!
As mentioned in a previous Weekly Buzz, there's a sandy competition happening at the beach! Make sure you're prepared with the tools of your trade, and a point of reference or two, if you plan on participating in the fun. Don't say we didn't warn you!
Saturday is funday around WHQ! We're celebrating Munzee's 7th Birthday with an event in Allen, TX. Although the true focus is on Munzee, we'll be celebrating with a commemorative Unique for all players! A special variant will be made available for those in attendance at either the TX or CA event. Don't trade it away, because you'll only get one!
Do you love the gnome in Weed 'Em And Reap? You can now show off this beautiful little guy on a brand new t-shirt in the online store! We've also added a few other physical products to our shelves, including WWH2O beach towels and Pouch Creature evolution t-shirts. Take a look! Want to see other new designs? Submit your suggestion.
Minor adjustments have been made to the Wishing Well, capping wishes to 60. There is no added benefit to wish counts over 50, so we've made this adjustment to help players save precious resources.
---
Recent Item Highlights
---
Player Unique Spotlight
With more and more Player Uniques coming out, we want to spend a respectable amount of time learning more about them. Our Player Unique Spotlight this week highlighted Kopjafa. You can read more about this unique here.
Kopjafa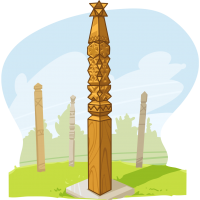 ---
This Week In WallaBee History | July 9th – 15th
July 10th, 2012: The first Branded items were released into the game! These items included: Highlights Icon, Sheep Up!, Nakrum, ExpenseMagic Wand, Mangatar, and ItemBrowser Icon.
July 12th, 2012: Cowboy Boots was the first item to kick off Foraging at Fort Griffin. Who knew this item would be so rare?
July 13th, 2015: Bad Bandana happened. The first in an ever-growing mini series of 'bad' items. These come about when a set item release really messes up and a Unique sounds more fun than a botched item release. It's not a great part of our history, but it is history. When things go wrong, we do our best to make them right. Thanks for keeping with us through thick and thin.
July 14th, 2016: We were still plagued by the annoying Friend Bug and 512 errors. Luckily, we don't deal with those exact issues anymore. If it's not something, it's another. One step at a time.
---
Room For Growth
We have compiled a list of issues that we are currently working on. If you find something that doesn't fit into this list, please reach out to us and let us know.
Battery drains like crazy
Forum Notifications/Count are missing

Coming in a future update.

General slowness

Under investigation. Ram Issue.

Layout Issue (Android Specific) – Entering the app through a push notification, from a landscape-based app, makes the layout freakout.
Mix Button Turns Off When Exiting App

Fixed with next version. Can be worked around now by pulling-to-refresh on the Pouch screen.

Profile Bio Doesn't Save

We have received reports that the bio doesn't always save or randomly disappears. This is under investigation.

Random Crashes (especially on older devices)

We have discovered that the ram needed for the app fluctuates way more than it should, sometimes peaking over 1gb, which can cause older devices to crash. We are investigating what is causing this, so that we can enhance app performance.

Store purchases hang up for a long time

We're currently working on this. Should be mostly resolved with our continuing changes.

Store shows new item, but gives something else

Under investigation. Usually happens when the app hasn't been closed.

Unresponsive Buttons – Performing certain navigation changes can cause various pages to become unresponsive. Closing the app resolves the issue.
Any additional questions, comments, concerns? Email: support@wallabeegame.com