Weekly Buzz 01/26/18
Hello Collectors,
If you've been following our social accounts, you've hopefully seen us engaging with the community a little more. We're hosting #GuessingGiveaway over the weekend, where players have the chance to win a Mystery Box for a correct answer. We've also introduced #ThrowdownThursday, where we'll be pinning WallaBee characters against each other in a battle for glory. Who did you vote for this week? Sarah Jurrasica Parka or Thrilling Ending? Whoever you think would win, we believe it would be a very entertaining match! If you have a suggestion of who you think should be featured in a Throwdown, tweet us @WallaBeeGame.
Behind the Curtain
Version 2.2.2 came out yesterday, which allows us to begin issuing Grab Bags and Wallagraphic Items. Although we made many improvements with the app, it created a lag with performance on various devices. We are currently investigating the root of the issue, so it can be plucked like the weed it is. We will keep you updated as things progress.
Grab Bags will begin hitting the game next week! As a reminder, we are planning for a slow release from older to current sets. You can expect the Circus Bag to show up sometime during our office hours, so we can keep an eye on the excitement! 😉
January's WallaPak sold out very quickly last week, with the limited number of goodies sent out to their new homes. We have February's WallaPak in hand and ready to launch, mid February. There have been suggestions for a virtual WallaPak, which we are taking into consideration. Thank you for your feedback about this new product.
Should you have any questions, please let us know by emailing Support@WallaBeeGame.com
---
Recent Item Highlights
Arctic Antics closed it's small chapter, with the last two remaining items in the set releasing this week. As we dive into next week, the hype for Grab Bags continues. Speaking of our next set, here are some cool highlights.
Juicing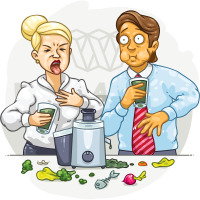 Just because you can juice just about anything, doesn't mean you should.
The Great One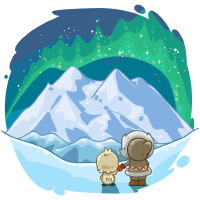 There's no better way to end the day than watching the auroras dance over The Great One with a friend.
Until Next Time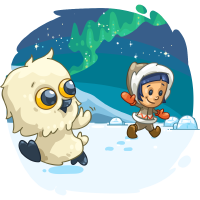 They depart for the night, eager for more arctic antics tomorrow.
---
Player Unique Spotlight
With more and more Player Uniques coming out, we want to spend a respectable amount of time learning more about them. This week's Player Unique Spotlight highlighted WallaBits. You can read more about this unique here.
WallaBits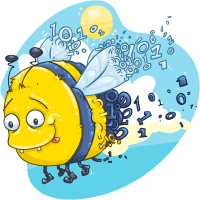 ---
This Week In WallaBee History
January 23rd, 2015: A very special day in WallaBee history… the Helicarrier was released to fly around the world! Both as a recyclable item, and the first location to be available to everyone at the same time.
January 25th, 2014: The entire Burns' Supper set released on this day, with ikadinda grabbing the first-to-complete trophy! Well done!
January 27th, 2013: Chocolate Birthday Cake was introduced into the game, to celebrate the birthdays of our wonderful players. The first cake was gifted to Ben Wilson, whose birthday is coming up tomorrow! From all of us at WallaBee, we wish you a very Happy Birthday!
January 27th, 2016: The item 1+1=1 was issued as the first Legacy set item. The story it represents is worth having a read, if you haven't already.
---
Room For Growth
We have compiled a list of issues that we are currently working on. If you find something that doesn't fit into this list, please reach out to us and let us know.
Battery drains like crazy

Under investigation. 

This has become even more-so of an issue with update 2.2.2, but we are digging in deep to resolve it.

Forum Notifications/Count are missing

Coming in a future update.

Performing an action that triggers a pop up sometimes 'freezes,' which needs a hard close to fix

Currently being sorted out.

General slowness

Under investigation. 

This has become even more-so of an issue with update 2.2.2, but we are digging in deep to resolve it.

Store Item and Icon don't match

Under investigation.

 At the moment, there is a chance that the previous item image will linger, even though the item has updated to the next one in line (viewable by the honeycomb price and set icon).

Store purchases hang up for a long time

Under investigation. We're so sorry for those effected by this issue… which should be everyone. Whoops.

Random Crashes (especially on older devices)

We have discovered that the ram needed for the app fluctuates way more than it should, sometimes peaking over 1gb, which can cause older devices to crash. We are investigating what is causing this, so that we can enhance app performance.