Weekly Buzz 12/21/2017
Hello Collectors,
Christmas Crisis has just picked up the pace by a long shot. We hope that you're managing your Pouch well during this time. Pro Tip: make sure you're foraging between drops, to maximize your available honeycomb balance for more supplies. As the sets draw to a close, it's going to be vital to have enough items around to complete all seven sets. There's 112 items in total, and the completion bonus is well worth the effort. Stay with it!
Behind the Curtain
From December 22nd through January 1st, Team WallaBee will be out of the office, trying to spend time with family and friends. This means that we'll be suspending Weekly Buzz posts until the first week of January. We'll try and make up for the missed time where we can.
Item releases will still happen during this timeframe, with a drop-free guaranteed block of time beginning December 24th – December 26th UTC. This means that drops can happen any time before 23:59 December 23rd UTC, and any time after 00:01 December 27th UTC. This should allow some much-needed recuperation time after Christmas Crisis, am I right? Spend time away from your phone, enjoying the holiday season with those you love, or spend it foraging for some much needed honeycombs… your decision!
We're really close to releasing update 2.2.2, which will feature some requested new elements, while we work on tackling the beast… erm, forums.
BeeKeeper applications are here! If you're interested in being a BeeKeeper from January – March, please fill out the BeeKeeper Application before January 1st. All entries will be reviewed, with the first 2018 BK team announced the first or second week of January.
Should you have any questions, please let us know by emailing Support@WallaBeeGame.com
---
Player Unique History
With more and more Player Uniques coming out, we want to spend a respectable amount of time learning more about them.This week's Player Unique Spotlight highlighted Light of Willpower. You can read more about this unique here.
Light of Willpower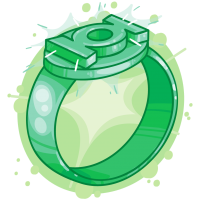 ---
This Week In WallaBee History
December 18th, 2014:  North Pole released, kicking off Robbie Smith's Santa's Workshop set. This icon was used again in a different way when we visited the workshop a second time in Christmas Crisis.
December 18th, 2015: This week two years ago, we opened up BeeKeeper applications for the first time in a long time. It would only seem fitting that we do the same again. In case you missed it above, here it is again: BeeKeeper Application.
December 19th, 2016: Players started getting nervous as we announced Cracking Under Pressure. This set highlighted the festive Christmas Cracker and all six colo(u)red Party Hats. That was definitely a day that no one participating will soon forget.
December 20th, 2012:  WallaBee's First Christmas released with the first item: Bauble. Trivia Time: Although this set wasn't the first to release, it is categorized as set #1. This was because WallaBee was planning to launch in 2011, but missed that date by two months, with the first official set (set #2: A Trip To The Circus) releasing along with the app in February.
---
Room For Growth
We have compiled a list of issues that we are currently working on. If you find something that doesn't fit into this list, please reach out to us and let us know.
Battery drains like crazy –

We are currently testing an internal build of the app that handles the store differently. We hope that this change will drastically save battery when using the app like normal.

 

This internal build has reduced battery consumption when not using the store, as it halts animations from processing until the store is brought back into focus. However, this is causing some strange loading with items, which sometimes appears as the wrong item in the store. This can be confusing during a drop, and we are looking into it.

Forum Notifications/Count are missing – Coming in a future update.

Performing an action that triggers a pop up sometimes 'freezes,' which needs a hard close to fix

– There is a new version of React Native available which should have this fixed. We will be updating to the newer version of React in the near future to test whether the fix works. More information to come.
Market Items sometimes not available – This deals with a very rare situation where an item is removed from the market, but the listing is not updated. We are researching what's causing this.
General slowness – Because the app runs completely off of an API, connection to WiFi or data is extremely important. If your coverage dips, your connection will also dip. This doesn't explain every situation, but needs to be addressed. We are currently working on speeding the app up in various areas. You will notice that the forums perform MUCH faster than before. Our goal is to cut the slow, and speed it up, bro.
Store Item and Icon don't match – This is a known issue with how the phone holds store information. At the moment, there is a chance that the previous item image will linger, even though the item has updated to the next one in line (viewable by the honeycomb price and set icon). We're investigating a fix for this.
Delayed Mix on Wooden Plane and Wooden Yo-Yo releases. –

Although these had the exact same drop time on the backend, there was a caching issue which delayed the process of these items to be spaced out a few seconds. We have adjusted this caching, seen in the Blue Paint and Wooden Train release, to which we haven't seen that issue arise again.

Crashing on store. Crashing randomly. – Under Investigation
---
Community Content
This is a section of the blog where we will highlight any funny images or videos from the community. These may appear through links in the forums, on Facebook, guides on YouTube, or other sites.
I'll probably regret this, but there haven't been many other options to choose from this week. -sigh- Here's Mizak, proving that he deserves his top spot on the Naughty List.
If you think someone's content (or your own) is worthy of being highlighted, you can suggest by emailing support or tagging it with #WallaCommunity.
Any additional questions, comments, concerns? Email: support@wallabeegame.com