Weekly Buzz – 10/23/19
Hello Collectors,
We're now just under a week away from Halloween, which means we have a spooky set in store for you! Stay tuned for the release of the first item in this 21 piece set that not only features some spooktacular artwork by Andy Cameron, but a scary ghoul'd story to follow! But for now, let's take a moment to review our most recent item drops and set progressions!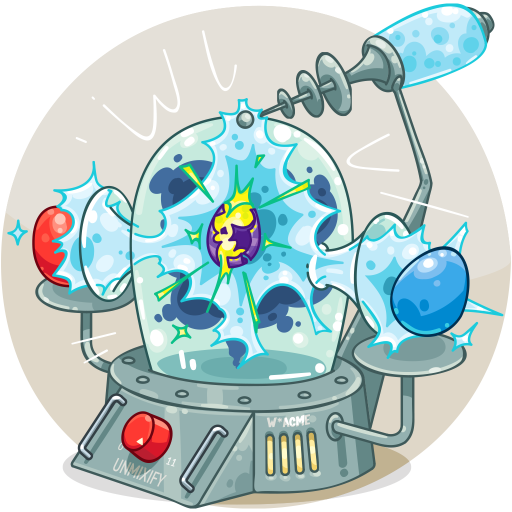 Item Feature
This week we released our October TOP SECRET item, which turned out to be an Antimatter Chamber. This device is capable of splitting anything into its original components… with a catch. The idea behind this W*ACME item is to split the result of mixing (purple egg) back into its original ingredients (red and blue eggs). However, this machine doesn't revive the destroyed numbers, but rather gives the user two new ingredients.
While this item doesn't actually work, it's a cool concept!
Set Progress
Our recent item drops have revolved around PC2, with these three Pouch Creatures starting to level up! Dr Miu Chudoku has discovered that the base forms of these creatures can react to various gems! Sparbee can evolve into Sparfox by using a Fire or Air Gem, Kalmaar can evolve into Kalmainium by using a Water or Depths Gem, and Umbra can evolve into Umbrasaur by using an Earth or Lightning Gem!
Dr Miu Chudoku continues her research on the remaining eight undiscovered Pouch Creatures. There has to be a connection between them.
Coming Soon!
While you eagerly await the release of this year's Halloween set, keep an eye out for more information on WallaBee 3.0! You'll find new information shared on the blog and our social media accounts as we get closer to the big reveal!
Any additional questions, comments, concerns? Email: support@wallabeegame.com. And to stay up to date with all things WallaBee related, be sure to follow us on Twitter, Instagram, and Facebook!