Hello Collectors,
Thanks for all of your support with WallaBee. We love running this game for you and are working on some updates at the moment. We hope to have more information available soon. Until then, let's talk about some things happening behind the scenes.
Behind the Curtain
Player Uniques. They are very popular in WallaBee, and for good reason. They allow players to express themselves within our game, which is not something many games allow… We love putting forth your content as items within WallaBee, and are currently working through the existing queue of Player Uniques for 2018. As it states on the website and blog, we're currently not accepting new applications for Player Uniques, but hope to open this up once again near the end of the year. Since Andy is the main artist responsible for 90% of the items in WallaBee, we can only work him to death so much within each month. We appreciate the interest from so many players to create more Player Uniques, but please be patience with us for the time being.
A summer-inspired set is coming within the next few weeks. We hope you've got your spades and buckets ready for the *sandcastle competition. *Sandcastles may not resemble castles.
As hinted through social media, we're planning out a followup to The Aftermath. We know many of you wondered what exactly happened to Goldie, so we're going to continue the story within the next two months. We hope you'll enjoy this second installment.
The World Cup is getting intense! How are you doing in the bracket? If you're not following the action for Wyando's competition in the forums, we hope you're still supporting your country's team (if they're still there).
Various players have come together to help new players begin lowering their Set Items, and we think that's awesome! Shoutout to those hosting this BIG GIVEAWAY in the forums. You guys rock!
More Mixerpool craziness coming this weekend! Stay tuned to our social media accounts and @WallaBeeTracker for when new items get added.
---
Recent Item Highlights

---
Player Unique Spotlight
With more and more Player Uniques coming out, we want to spend a respectable amount of time learning more about them. Our Player Unique Spotlight this week highlighted Unicorn – Fantastic Creatures. You can read more about this unique here.
Unicorn – Fantastic Creatures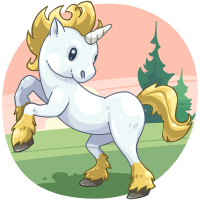 ---
This Week In WallaBee History | June 18th – June 24th
June 23rd, 2013: Frangipani released as the first item in WallaBee Wellness Retreat. This was a great set to remind players to take a break from foraging and mixing every now and again… do something nice for yourself and relax.
June 18th, 2014: The last item in Tiki Tourist was released, finishing things up with Tiki Island. This item was also a mini Megamix/Crossmix with the Clown Fish to create Aquatic Initiation… ooh ha ha.
June 22nd, 2014: The first item in You Just Got Served was released, which was of course Tennis Balls. It's kinda difficult to play tennis without them.
June 20th, 2016: The craziness of Andy's Inter-dimensional Toymageddon began with an Extraordinary Magic Set. The artwork for this piece features the Carnival Magician from Carnival of Curiosities. He's sure up to no good.
---
Room For Growth
We have compiled a list of issues that we are currently working on. If you find something that doesn't fit into this list, please reach out to us and let us know.
Battery drains like crazy
Forum Notifications/Count are missing

Coming in a future update.

General slowness

Under investigation. Ram Issue.

Layout Issue (Android Specific) – Entering the app through a push notification, from a landscape-based app, makes the layout freakout.
Mix Button Turns Off When Exiting App

Fixed with next version. Can be worked around now by pulling-to-refresh on the Pouch screen.

Profile Bio Doesn't Save

We have received reports that the bio doesn't always save or randomly disappears. This is under investigation.

Random Crashes (especially on older devices)

We have discovered that the ram needed for the app fluctuates way more than it should, sometimes peaking over 1gb, which can cause older devices to crash. We are investigating what is causing this, so that we can enhance app performance.

Store purchases hang up for a long time

We're currently working on this. Should be mostly resolved with our continuing changes.

Store shows new item, but gives something else

Under investigation. Usually happens when the app hasn't been closed.

Unresponsive Buttons – Performing certain navigation changes can cause various pages to become unresponsive. Closing the app resolves the issue.
Any additional questions, comments, concerns? Email: support@wallabeegame.com