WallaBoo! 2018
Hello Collectors,
We're nearing yet another MHQ Bash. As this year's event lands near Halloween, the theme is MH-BOO Bash! All events can be seen on Munzee's Calendar, including WallaBoo! That's right, we'll be gathering with both new and familiar faces, October 27th, 2018. The specific location for this event is still TBA, but will remain in the surrounding McKinney area. Additional information about this event will be made available here on the blog as well as on the Event Page.
To make WallaBash even more special this year, we're testing uncharted water. At past events, we have given a Unique Item to those in attendance, released a new Unique Item during an event, and given a special variant for a Unique Item for those in attendance… but this takes all of those ideas to the next level. In addition to the fun that's being planned for our WallaBash event, participants will have the opportunity to purchase a WallaBash add-on to the event: Own and distribute your very own Personalized Halloween Player Unique for $50!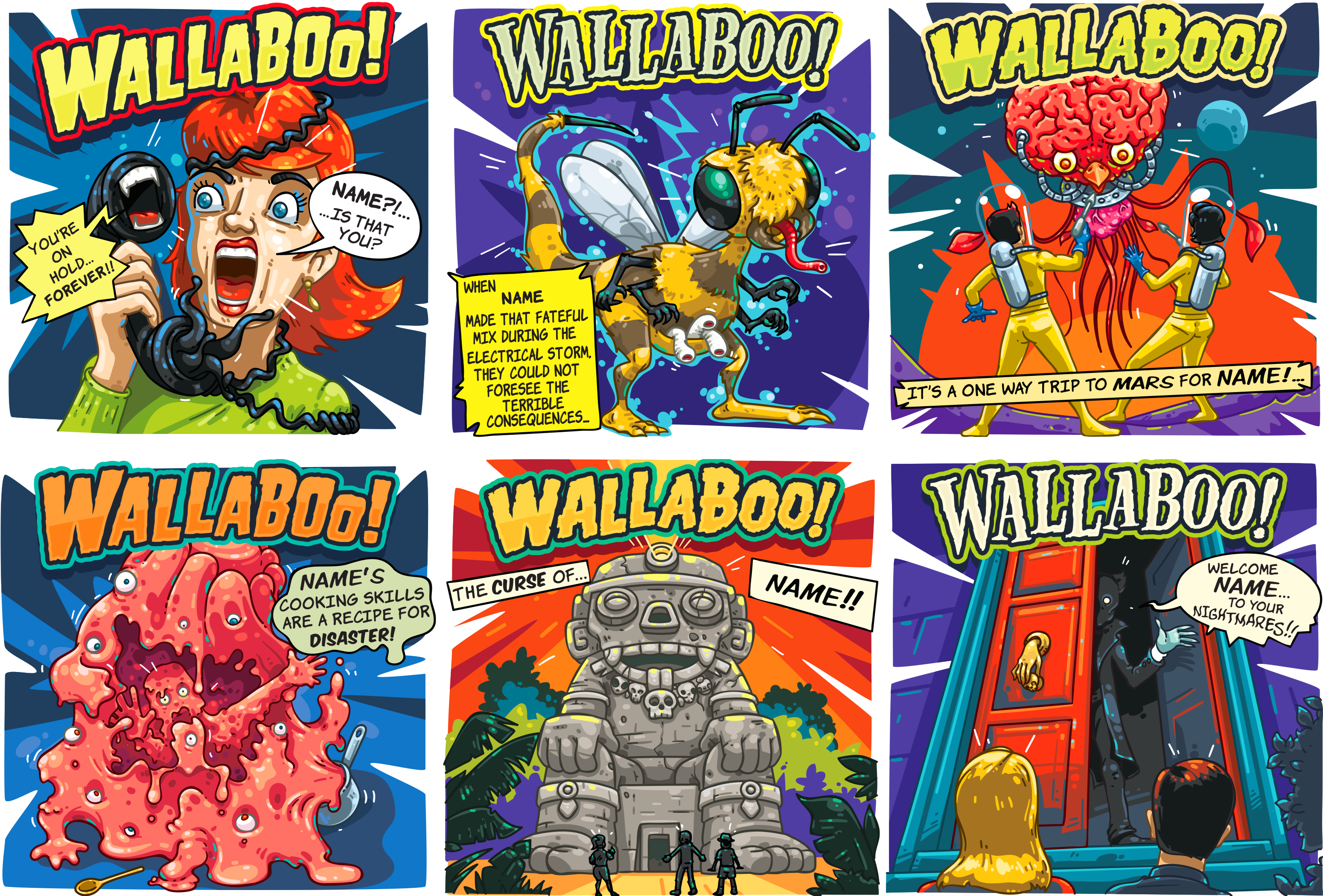 Registering for Bash Weekend
Now, in order to purchase this special Unique, you have to attend MH-BOO Bash weekend. There are Free and Paid MH-BOO Bash Packages available for signup. Please enter your Munzee Username for the registration. If you do not have a Munzee Username, you can use the username 'WallaBee' and add your WallaBee username in the notes.
Once your selected package is in your cart, you can add the WallaBash Personalized Halloween Unique. Please use the username 'WallaBee' and add your WallaBee username in the notes. Adding your WallaBee username to the item will not work. We will be assigning the Unique to each owner at a later date, and will reference the notes for all orders.
Personalized Halloween Player Unique Details
There are six different item designs to choose from. The Player Unique will be personalized with your username in the artwork, to add that special flair and make it pop as your own! This offer will continue until September 17th at 3pm WHQ, at which point the registration offers will end. Don't miss out on this opportunity to add a spooky Player Unique of your very own to your collection!
In order to purchase this item, you must be attending MH-BOO Bash with either a free or paid package.
This opportunity is available one (1) per person.
Unique ownership is nontransferable between accounts.
You will have all distributive rights to your Unique once it is added to your account, with exception of offering it through Foraging, Uncanny Uniques, and/or Market resale.
There is no cap to how many you can distribute.
This offer is specifically for a personalized Halloween-themed Unique, not a custom Unique commission. Alterations to the design of the Unique are not available.
Any additional questions, comments, concerns? Email: support@wallabeegame.com