Weekly Buzz – 05/18/18
Hello Collectors,
Did you miss us last week? We were working hard to bring better releases to you. Luckily, we should be returning to your normally scheduled programming soon! Enjoy!
Behind the Curtain
Our efforts to create a smoother drop continues. We have seen much improvement with this with the last 2 item releases, but we're not done yet. We appreciate the help and feedback about both good and bad experiences within the app during a drop. Keep those coming to support@wallabeegame.com.
Last week, we gave the community an Artwork Survey to gauge thoughts about the current style of items within WallaBee. So far, the feedback has been thought provoking and insightful for how we can continue to grow WallaBee moving forward. We know that the user experience is very important, which is why we want to hear from our players. We love you all!
The Mixerpool was topped off again on Monday with many low numbered items thrown in. If you're still in the mixing mood, we're working out a fun new way to get Bronze and Silver Mixers. Stay tuned for details later on.
A social competition has begun on our Facebook page! If you have an idea for an awesome new set, submit it as a comment on that post for your chance to see it come to life, see your username in the item artwork, and win some great in-game prizes. Don't forget to vote for other ideas you'd like to see. The idea with the most likes (reactions) will win! Good luck!
Speaking of competitions, here's another opportunity to share in WallaBee history. We have a new set coming out soon that needs some tender loving care… and a title! Our favorite submission through the forums will win a snazzy new Mystery Box… or two… or five. Don't be afraid to get down and dirty with the puns – we dig 'em!
---
Recent Item Highlights
---
Player Unique Spotlight
With more and more Player Uniques coming out, we want to spend a respectable amount of time learning more about them. Our last two Player Unique Spotlights have highlighted WALLACOMP!! and ToysRGood's Karate Kid. You can read more about these uniques here.
WALLACOMP!!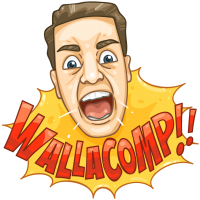 ToysRGood's Karate Kid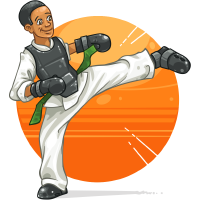 ---
This Week In WallaBee History | May 14th – May 20th
May 14th, 2014: The first Bronze Coin was created by Targeteer2k. He also created the #1 Silver Coin the next day. Way to go!
May 16th, 2017: The Camping Multitool was released with some -cough- issues. Those who had to deal with that release had their recently acquired multitool replaced by a Broken Multitool. What's so broken about this tool, you might ask? Well, it's upside down for starters.
May 17th, 2016: Many, many flower arrangements released on this day: The Royal, Happy Celebration, Spring Delight, Vibrant Seduction, The Very Lovely Special Garden, and Unparalleled Wonder.
May 18th, 2017: The actual Camping Multitool was released. This one is right-side up. Yay!
---
Room For Growth
We have compiled a list of issues that we are currently working on. If you find something that doesn't fit into this list, please reach out to us and let us know.
Battery drains like crazy
Forum Notifications/Count are missing

Coming in a future update.

General slowness

Under investigation. Ram Issue.

Layout Issue (Android Specific) – Entering the app through a push notification, from a landscape-based app, makes the layout freakout.
Random Crashes (especially on older devices)

We have discovered that the ram needed for the app fluctuates way more than it should, sometimes peaking over 1gb, which can cause older devices to crash. We are investigating what is causing this, so that we can enhance app performance.

Store purchases hang up for a long time

We're currently working on this. Should be mostly resolved with our continuing changes.

Unresponsive Buttons
Any additional questions, comments, concerns? Email: support@wallabeegame.com