Unique Spotlight – Indigo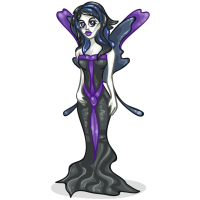 A dark soul, lost and afraid, stumbles upon the Tavern of the Damned.
There she finds her salvation in a new family, finds parts of herself she could only dream and learns love is for eternity

Owner: Indigo
How To Get: It is in the unique store. I have a limited number of TDs which I'll trade for a 1985 card. A 16 card if it is a unique. Or an upgrade to any of my none 1985 saved cards.
Meaning: I was completely obsessed with Wallabee, and I wanted something that I could exchange for other player Uniques. I liked the idea of something that I had 'invented' being part of the game.
Which number unique is this for you? This is my first unique.
Closing Thoughts: This is a representation of my first online role player character who at one point felt like a bit part of my personal story and had a lot of meaning. Indigo was/is quite special to me and I still use her full name as a username for some websites/games. She represents a time of exploration, self-discovery and transformation.