Weekly Buzz 04/06/18
Hello Collectors,
Quick update today. Magic wands, juice, and the colors black and white.
Behind the Curtain
Development keeps on going slowly but surely toward the next app update. With a small team working on WallaBee, it can take a while. We hope that you continue to enjoy the game as we make improvements.
When you wish upon a star… shaped magic wand, lots of things can happen! In fact, items may change before your very eyes. We have a new Unique coming soon that has the power to change certain variants. Tired of having a white Easter Chick? Use a the magic wand and PRESTO CHANGO, it's now one of the other 13 variations. What about changing that flavor of Jelly Beans you have? You can do that too! The item's number remains the same and the previous history will be updated with the new variant artwork. Warning: use of magic is highly random and will sometimes not give you the variant you want. Many magic wands may be needed before favorable results are achieved. There may also be a small explosion when using this type of magic, so use with caution.
We're just about finished with the Freshly Squeezed set. Remember, if you get stuck on figuring out one of these mega mixes, all recipes are available on ItemBee.
Our next set will have everyone speechless. Literally.
---
Recent Item Highlights
---
Player Unique Spotlight
With more and more Player Uniques coming out, we want to spend a respectable amount of time learning more about them. This week's Player Unique Spotlight highlighted Roaming Gnome. You can read more about this unique here.
Roaming Gnome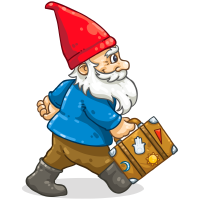 ---
This Week In WallaBee History | April 2nd – 8th
April 3rd, 2014: Cruise Brochure released as the first item in Cruise Control. Gaberbocchus
April 4th, 2016: Beastly Tooth was released as the third item in Tell Us A Tale. To this day, no one has figured out what this really is.
April 5th, 2015: Marshmallow bunnies and chicks met their demise in 6 Ways To Kill A Peep, with the first death being Death By Chocolate – arguably the best way to go.
April 8th, 2012: Eggception. Many eggs were destroyed. A day that will not easily be forgotten.
---
Room For Growth
We have compiled a list of issues that we are currently working on. If you find something that doesn't fit into this list, please reach out to us and let us know.
Battery drains like crazy
Forum Notifications/Count are missing

Coming in a future update.

General slowness

Under investigation. Ram Issue.

Item View Crash – Go to pouch, Tap / open item, Tap menu, App crashes

Fix available in next update.

Layout Issue (Android Specific) – Entering the app through a push notification, from a landscape-based app, makes the layout freakout.
Performing an action that triggers a pop up sometimes 'freezes,' which needs a hard close to fix

Currently being sorted out.

Places List – Bottom of row doesn't register input.

Fix available in next update.

Random Crashes (especially on older devices)

We have discovered that the ram needed for the app fluctuates way more than it should, sometimes peaking over 1gb, which can cause older devices to crash. We are investigating what is causing this, so that we can enhance app performance.

Sets Page always shows 'try again' before loading view

Fixed in the next update. For now, you can avoid this by viewing your Pouch before looking at the Sets page.

Store Item and Icon don't match during drop

Under investigation. At the moment, there is a chance that the previous item image will linger, even though the item has updated to the next one in line (viewable by the honeycomb price and set icon).

Store purchases hang up for a long time

Under investigation. We're so sorry for those effected by this issue… which should be everyone during a drop. Other times, it runs like a champ.
---
Community Content
This is a section of the blog where we will highlight any funny images or videos from the community. These may appear through links in the forums, on Facebook, guides on YouTube, or other sites.
Auction House Moderator extraordinaire, JenBee997, is taking the Freshly Squeezed set very seriously. How seriously, you may ask? Well, she purposely put kale, spinach, mango, banana, coconut, blueberries, granola, açaí, chai seeds, matcha and wheatgrass in her smoothie. That's dedication to WallaBee, right there! Thanks for sharing, Jen!
If you think someone's content (or your own) is worthy of being highlighted, you can suggest by emailing support or tagging it with #WallaCommunity.
Any additional questions, comments, concerns? Email: support@wallabeegame.com