Unique Spotlight – Willie Nelson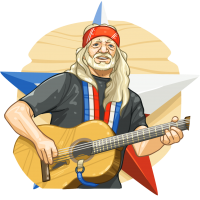 An icon of the music industry, Willie's career spans 7 decades with numerous hit songs & 30 books to his credit.

Owner: ChucksGhost
How To Get: Willie is the nineteenth and final item in my UTAustin Tower Mixing Chain. UTAustin Towers are available for 20 HCs in the Uncanny Uniques Store. Mix two Towers to make the next Unique in the Chain, etc. there are seven Austin Icons and 12 Texas Music Legends in the Chase For Willie. The complete Mixing Chain is posted in my profile. There are two rewards for being the first player to complete and save the full chain or, if you already have the full chain, to make Willie. They are the #11 Willie Nelson and the #11 of my #1 Unique. Players 2-10 will receive their choice of a DD UTAustin Tower OR DD #1 & a TD of the other. Players 11-25 will get their a TD UTAustin Tower a TD #1. Additionally, all players who finish mixing the entire chain will get a TD Redheaded Stranger. There are some shortcuts. See my profile for details.
Meaning: I've always admired Willie Nelson, not only for his music but for his unflagging support of family farms via FarmAid.
Which number unique is this for you? Willie was the 14th Unique and the 7th Texas Music Legend I commissioned. Because Willie is my favorite living musician, I moved him down to the end of the Mixing Chain and made him the goal line.
Closing Thoughts: I hope you all have as much fun Chasing Willie as I've had creating my little game within the larger game of WallaBee. I also like buying and mixing Towers and often give them away. If you are new to the Chase send me a PM in WallaBee and I'll send you a Keep Austin Weird (the 7th Austin Icon, featuring me) and a Stevie Ray Vaughan (the 1st Texas Music Legend). I had a wonderful, and occasionally frustrating nearly six years here in WallaBee. I've made many enduring friendships and learned a lot about myself along the way. Thanks to you all!!!! Chucks👻