Weekly Buzz 11/22/2017
Hello Collectors,
We're here with another Weekly Buzz update. Are y'all excited for Turkey Day? We are! The season of Thanksgiving encourages us to spend time with friends and family and allows us to reflect on what we're thankful for. As part of the WallaBee Community, we're definitely thankful for what every player has to offer. Our community is creative, kind, helpful, giving, loyal, hard-working, and unique. We are so thankful for each and every one of you! Thank you for helping make WallaBee great. What are you thankful for?
Gameplay Development
This week's development has been a continuation of speeding up the app with various adjustments to the backend. We've sped up the processing time for creating items and awarding achievements, as well as fixing an annoying notification glitch.
We are continuing to update the app so that we can better track analytics. Along with the helpful feedback from the community, this will help our team make educated decisions when implementing updates and gameplay changes.
What about Mystery Boxes? We know you're eagerly awaiting to crack some of these gifts open and claim your sweet reward. Black Mystery Boxes will be available through the online store on Cyber Monday. Our store-wide sale is beginning at 10am WHQ time (16:00 UTC) on Monday through 10am on Tuesday. Be sure to check it out!
---
Recent Item Highlights
Strange things continue to happen in WallaVille. Eerie green lights are seen from Flo's barn late at night. Upon investigation, she realizes there are cows floating near the ceiling, as if they were in space. What is causing the cows to levitate like this? What will Flo do next? All of these answers and more will come to life soon.
Eerie Lights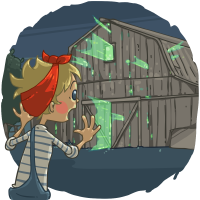 Later that night, there was quite a scare,
as eerie green lights filled the night air
Floating Cows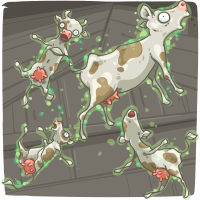 Up in the rafters, the cows were afloat.
As their moo's for help were caught in their throats
Our trip around the world in search of Budget Wonders is quickly coming to an end. Upside Down Charles Trobe and the Fremont Troll are the 10th and 11th stops for Benson, taking him from South Africa to Australia and the United States within just a few short days. As Benson makes his way to Seattle, players can only guess where we'll end up…
Upside Down Charlie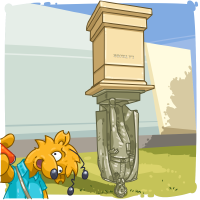 Budget Wonder #124: "Visiting Melbourne's La Trobe University will give you a head rush"
Fremont Troll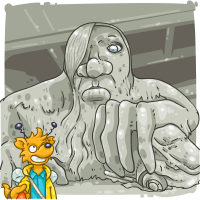 Budget Wonder #152: "Troll Ave holds a dark secret, but this guy isn't talking"
---
Player Unique History
With more and more Player Uniques coming out, we want to spend a respectable amount of time learning more about them. This week's Player Unique Spotlight highlighted Mabry Mill. You can read more about this unique here.
Mabry Mill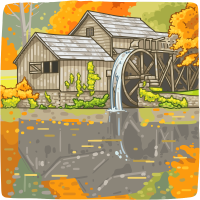 ---
This Week In WallaBee History
November 20th – 22nd, 2015: The entire Stache Check set released, but the special mix wasn't discovered until the 24th.
November 23rd, 2015: Golden Spurs released as the first item in the Midas Touch set.
Honorable Mention: The first Black Mystery Box variant was #237, found on 2013-11-29 00:20:18 UTC.
---
Room For Growth
We have compiled a list of issues that we are currently working on. If you find something that doesn't fit into this list, please reach out to us and let us know.
Battery drains like crazy – This is something I have personally been testing, and the cause is not the GPS like one might think. Yes, it's a contributing factor, but it's actually the store. Testing a version of the app without the store allowed me to keep my battery for MUCH longer than normal. We're working out a proper fix for this.
Forum Notifications/Count are missing – Coming in a future update.

Some notifications (like comments) show as read when they haven't been read

– We are working on this fix.
Performing an action that triggers a pop up sometimes 'freezes,' which needs a hard close to fix – This is a React Native issue that we're trying to work around. You can follow the dev gossip here.
Market Items sometimes not available – This deals with a very rare situation where an item is removed from the market, but the listing is not updated. We are researching what's causing this.
General slowness – Because the app runs completely off of an API, connection to WiFi or data is extremely important. If your coverage dips, your connection will also dip. This doesn't explain every situation, but needs to be addressed. We are currently working on speeding the app up in various areas. You will notice that the forums perform MUCH faster than before. Our goal is to cut the slow, and speed it up, bro.
---
Community Content
This is a section of the blog where we will highlight any funny images or videos from the community. These may appear through links in the forums, on Facebook, guides on YouTube, or other sites.
Our third image comes from Benson's stop in South Africa – the Big Pineapple – compliments of Rhodychick for sharing this photo for Abe. Abe is a new player from South Africa, who used to geocache. He downloaded WallaBee in order to help the community get Benson to this great Budget Wonder! Be sure to send Abe a friend request and thank him for helping Benson.
If you think someone's content (or your own) is worthy of being highlighted, you can suggest by emailing support or tagging it with #WallaCommunity.
Any additional questions, comments, concerns? Email: support@wallabeegame.com